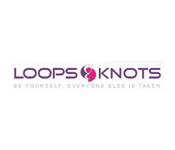 Loops & Knots (L & K) is a young, trendy fashion brand created to fulfil the desires and dreams of today's female. At L & K trendiness of a female innovates the building of a modern day lifestyle. The Designers at L & K have collected precious jewels and crafted them to create the desire for women who loves to be in the astonishing world of trends and fashion. Phenomenal upsurge in the present day households with high disposable incomes and exposure to global fashion have further boosted the steep rise in the global female fashion retail industry. Due to the ongoing fashion revolution and huge cultural shift, the Brands across the globe are adopting strategies to make Fashion and Lifestyle products an epicentre for their business models and competitive strategies.
The Evolution of L & K Label started in Paris in 1979 with the thought that it would provide world class fashion at the door step of the women who admire fashion. The promoters formulized and collected world class products in every industry and presented it under one brand to make the best collection for trendy fashion lovers.
L & K established the retail business of unique female fashion outlets with the promise to provide world class stores. Specializing in Trendy Garments, Fashion Wears, Night wears, Sports Wears, Lingerie, Footwear, Accessories, Natural Perfumes, Jewelleries, Technology Based Garments, Slimming Garments, Silicon Products, and various other products which have revolutionize the industry in itself. L & K presently established in United States & European market has planned to sprint ahead by expanding in Asia, Middle East and Africa through its franchising business model.